EGYPTIAN DANCE
AND SOMATICS (BMC®)
with LIVE MUSIC
A week of Dance, Music and Body wisdom from Egypt
with Maria Martinez, Maria Al Fajr, Amir Ezzat, Mourad Adli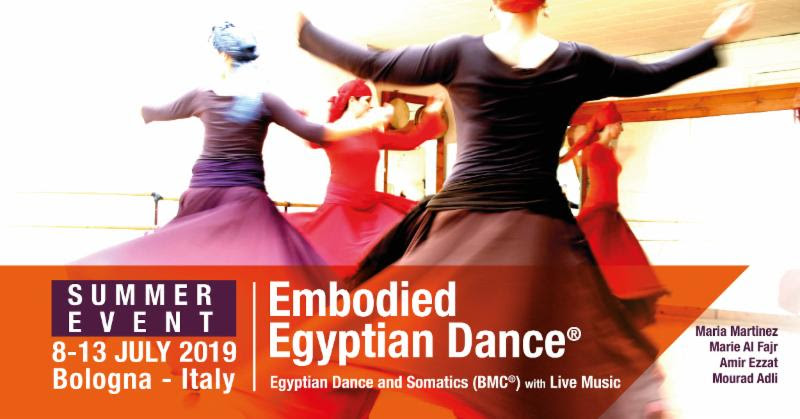 Experience the timeless universal language of a 

« body 

wisdom » through Egyptian dance with its technique, qualities and poetic expression.
Enhance your dance and body awareness with the somatic tools of BMC®.
BMC belongs to the field of Somatic Education and is an integrated and embodied approach to movement, the body and consciousness
.
These 6 days are a unique opportunity for you:

– to awaken your body, senses and consciousness, 

– to refine and improve the quality of your dancing, 

– to facilitate movement and increase your possibilities, 

– to feel the fullness of your being through dance, through the pulse of rhythm, 

and

 

the 

breath of live music. 

– to return home with more ease, fluidity, vitality and confidence.
This summer event of embodied Egyptian Dance is open to anyone who wants to cultivate 
presence, awareness and 
well being
through movement, as well as anyone who wishes to discover or increase their knowledge of this beautiful 
and 
organic 

ancestral dance 

tradition with its 

current relevance

.
Amateurs, dance lovers, beginners or accomplished dancers: 
You are all welcome, 
Ahlân.

Maria Martinez – Amir Ezzat – Mourad Adli 

–

 

Marie Al Fajr 

Both dance teachers 

Maria Martinez

 (BMC® Practitioner and Teacher) and 

Marie Al Fajr 

(Somatic Educator through Movement – BMC®) have more than 25 years experience in the fields of 

Egyptian dance

 

and movement

 and are happy to share their expertise for your personal development.

Talented musicians from the young generation of Egypt, 

Murad Adli 

(ney and kawala) and 

Amir Ezzat

 (riqq and daff) will improvise for us in a togetherness, supporting dance expression throughout  the event.
Schedule 
Dance and Music Sessions will be from afternoon until evening 
so you all have your mornings to enjoy the historical city of Bologna. 

Daily schedule is: 
– 2.30 pm to 4.30 pm – « Body Wisdom »
– 5.00 pm to 5.45 pm –  Music room 
– 6.00 pm to 8.30 pm – Dance with live Music

On the last day we will have a morning session from 9.30 am to 13.30 
followed by an informal festive gathering before going back home. 
(please note that the later dance sessions are open to people from Bologna and around who are working during the day and still would love to attend. Contact us if you are interested.)
Travel  
Bologna is very easy to reach from all the main European capitals. 
you might even find low cost flights if you buy your ticket  in advance.
Cost  
595€ with a non-refundable deposit of 300€
before 8th 
of April
645€ if registered after 8th 
April
To register, please request 
a form
 and send it back signed, together with 
your 
deposit
to
LOCATION
Zambra Studio Via Lugo 10 – Bologna 40128 
Easily reachable by bus from the centre of the city.
Accommodation

 Many possibilities are available in Bologna. 
We advise you to be in the centre of the city rather than close to Zambra Studio so you can enjoy your mornings and evenings in one of the most beautiful cities of Italy.
In order to help you searching where to sleep during your stay.

We have been informed of a good freshly renovate youth hostel by the station which could be an easy and practical option as all the busses going to Zambra start at this central station. It's cheap and clean.
Ostello we Bologna
Via de' Carracci 69/14, Bologna, Italia

For other solutions, the best is to search on internet according to your budget.

We are happy to put you in contact with others participants who wishes to share a flat or a room together through Airb&b for example.
On last day 
SATURDAY 13th July 
Performance at the Festival R – Estate
with Marie Al Fajr – Maria Martinez – Amir Ezzat – Mourad Adli
21.30 at Parco dei Giardini, via Arcoveggio, 59/8
We would be pleased if you could afford to stay.
We hope to see you this summer in Bologna for our first Summer Event 
in Embodied Egyptian Danc
e
 and encourage you to register as soon as possible to support our initiative 
and for us to bring the musicians from Egypt. 
We both look forward to move and dance with you.
You are welcome to contact us for more information:
— Marie Al Fajr compagnie.alfajr@gmail.com / 00 33 623508385
— Maria Martinez martinezpenalba@gmail.com / 00 39 3477902524